The Effect of Shade Sails In Summer
Views: 71 Author: Site Editor Publish Time: 2021-03-30 Origin: Site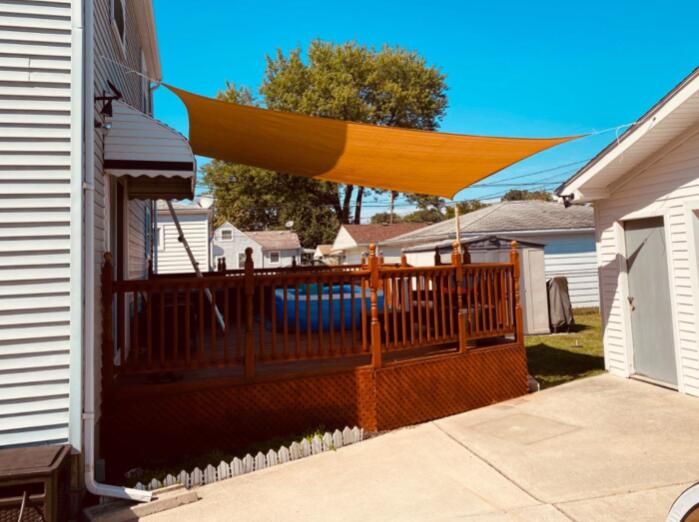 With the growing popularity of shade sails, umbrellas and canopies are gradually replacing the ones we use today. This is certainly a futuristic form of construction and is recyclable, blocking 90 to 95 percent of UV rays.
Its simple design, which allows two frame posts to be attached to a wall or other existing structure, is flexible and resilient, minimalist and elegant.
Since two or more shade sails are stacked at different heights and angles, you can choose different colors to create visual contrast between them to match the color of the exterior wall. Economical and practical, easy to disassemble and install, it brings me a beauty beyond tranquility, simple and beautiful, elegant and unpretentious.
Design an entertaining area in your backyard or garden, surrounded by trees and vegetation to complement the beautiful shade sail.
Manage your sun and shade rates to perfectly suit your needs with the flexibility to adjust to the sun's position and environment.
As we admire the shadows and places of the various sails above, don't we wish we had one, so how can we deserve to be like that?

When you see so many beautiful sails, you will be fascinated by the shapes and colors of the canvas. First, let's look at the shade canvas.
1、Shade and rain-proof netting:It is a kind of netting with rain-proof coating, which can be completely rain-proof, high transparency, does not affect the light entering, easy to take care of, and has self-cleaning property. There are many colors for customers to choose, and it is coated with imported anti-UV additives, which is less harmful to human body. It belongs to high strength stretch, high density screen surface.
3. Construction film:It is also solid surface fabric, lower transparency than mesh, super self-cleaning, mainly white, UV resistant, PA/PU waterproof coating, high tensile strength, about the same strength as steel.

We already know the shade sail fabric, now let's see the other auxiliary materials:
Steel structure:square steel pipe or round steel pipe, hot dip galvanized and electrostatic double coating double protection, bright color, high gloss, strong durability, adapt to various climates.
Corner Accessories:Stainless steel tabs on the top are chosen to ensure it will not rust for a long time, making it resistant to various weather conditions and making it more durable.
For the convenience of our customers, we have grouped our flexible shade sail shapes into four basic shapes for your reference. The four series can be combined with each other to create a rich and beautiful look!