Seedless Orange Harvest From Sugrand Bee Netting
Views: 17 Author: Site Editor Publish Time: 2018-09-04 Origin: Site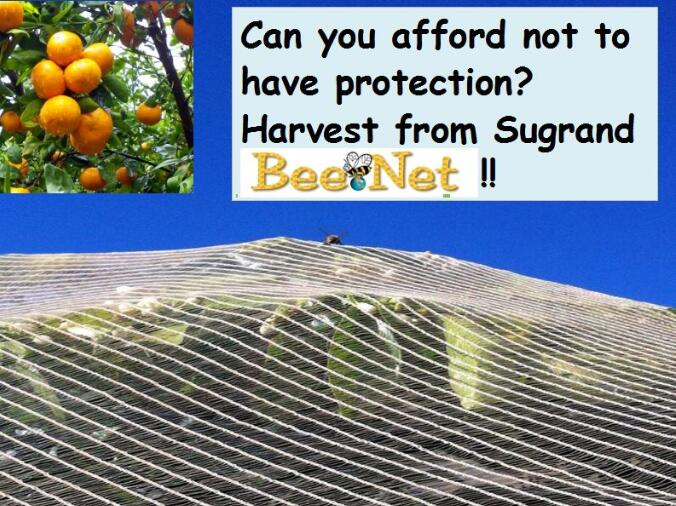 Bee netting is applied to prevent cross-pollination, resulting in seedless oranges, protecting your investment and getting the best value for your crop.
When to use the bee netting?
Nets are applied prior to bloom. The best scenario for netting application is after harvest and before bloom. Before applying nets, trenching both sides of the rows of trees is done to facilitate securing edges of nets. The machine lays nets over the rows and the edges of net are held down with dirt in trenches. When the bloom is over, nets are lifted from trees and spooled on the machine.
Unique Advantages from us Sugrand company
longest lasting UV-protected polyethylene, the first netting we supplied 10 years ago is now still in use.
high-density, the holes are small enough to prevent bees from passing through, meanwhile stop insects, yet still allow sunlight to pass through to the trees during the bloom period.
save your time. we directly transport the netting to your orchard. You do not need to spend time dealing with Customs clearance.
Our monthly production capacity in 100tons. Experienced and skilled workers in our factory over 10 years. You will receive goods at a shorter time.
save your money. Our loaded quantity 9tons-10.5tons /40ft container, compared with competors, 1 ton more.
We also have long-terms vessel company, get better sea freight than market prices.
Considering the overall, you will get much better price from us. Welcome to inqure us at any time.
offer you the spares you need, like storage bag after using the netting, hand sewing machine, local contact way for citrus netting machines to removal and managing nets for storage.