Anti Hail Net Construction System
Views: 51 Author: Site Editor Publish Time: 2018-11-15 Origin: Site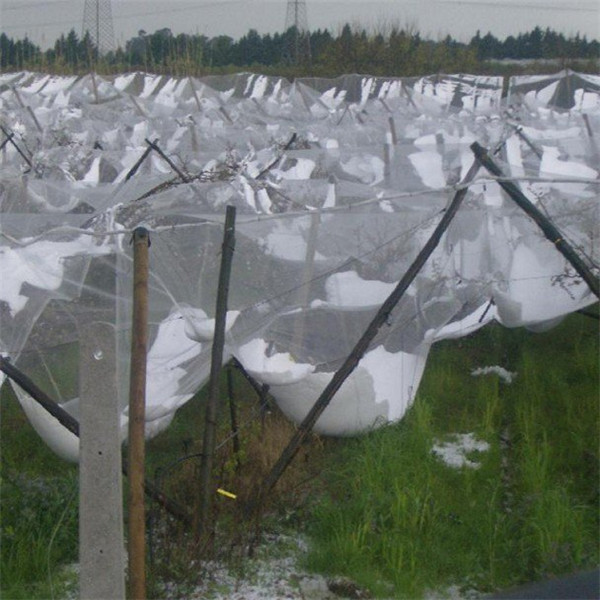 Hail disaster is one of the main disasters in agricultural production. Hail disaster causes large-scale cropland yield reduction and orchard harvest extinction from time to time. The main fruit producing villages and towns have been attacked by hailstorms repeatedly. The damaged fruits reduce the economic value, but the heavier ones are unable to feed, which has caused great economic losses to fruit farmers. Fruit industry has made considerable progress, but the construction of disaster prevention facilities matched with fruit industry is relatively lagging behind, and the ability of disaster prevention, mitigation and fighting against natural disasters is seriously inadequate. Especially in recent two years, many areas have been attacked by natural disasters such as hail, which has caused great economic losses to fruit farmers.

A better way to prevent hail disasters is to set up hail prevention net for orchard. Fruits in orchards, such as peaches, grapes and apples, may be seriously threatened by hail outbreaks if they are not well defended. Setting up hail-proof nets in orchards will not only reduce hail disaster, but also be widely used in orchards, vegetables, rapeseed and other crops because of the transparency of hail-proof nets, which will not affect the photosynthesis of crops. It can also be used in tobacco seedling raising for pest control and disease control. It is used to control all kinds of crops and vegetable pests. Choice.
In order to reduce the loss caused by hail disaster and solve the problem that the sudden disastrous weather restricts the development of forest and fruit industry, after investigating the technical measures of hail suppression of fruit trees, Xinhui netting construction project team is now carrying out hail prevention network erection. Pilot work has been carried out in Beijing, and hail prevention network has been successfully built as a demonstration park, and the construction work is in an orderly way. In progress.